Green Dash Northeast is a free, interactive tool that displays state-level data related to emissions and energy in the Northeast. This tool may be useful for staff at environmental NGOs, state and local governments, and community-based organizations seeking to better understand the status of climate and energy initiatives throughout the region. Green Dash Northeast aggregates publicly available data to present useful emissions and energy-related metrics. Metrics are displayed consistently for all Northeastern states, which allows for meaningful comparisons between states and additive regional values. For example, users can view and compare the following metrics:

---
Note: For the purposes of this tool, the Northeast states include Maine, New Hampshire, Vermont, Massachusetts, Connecticut, Rhode Island, New York, New Jersey, and Pennsylvania.
---
View the guide below for details and applications for Green Dash Northeast. You can also follow along with Synapse's guided tutorial.
Choose Your View
Green Dash lets users select how they would like to view data. On most of the metric tabs, users can view state-by-state data as either "total" values or as "per million residents." This adaptable format can help answer a wide range of research questions. For example, the user might be interested in which Northeast state generates the most electricity. See the figure below for the results using the "total" display type.
Users may also be interested in comparing electricity generation on a more level playing field. Given the population variability among the Northeast states, the user may be more interested in locating the state that generates the most electricity per million residents. The image below displays the same graph, but with the "per million residents" display type selected.
Comparing Two States
The Green Dash features a tab that provides side-by-side metric comparisons for two user-selected states as well as the Northeast state average. This is useful for users who are interested in two specific states. For example, the user might be interested in comparing residential and commercial heating fuel use in New Hampshire and New Jersey. The figure below shows side-by-side heating fuel sales by fuel type for both states.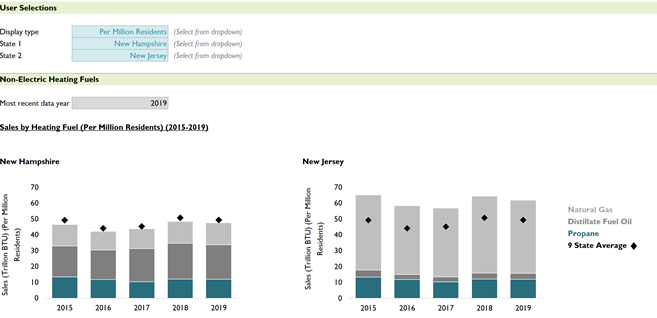 Dive into GHG Emissions
Most states are required to publish official state greenhouse gas (GHG) emissions inventories that show progress towards emissions reduction goals. However, these inventories use varied assumptions and data sources, preventing apples-to-apples comparisons between states. Green Dash provides a unique platform to view consistently calculated GHG emissions data across multiple states. Green Dash displays data for five key sectors:
Residential
Commercial
Industrial
Transportation
Electric power
---
GHG emissions data for Green Dash is stored in a Synapse-developed workbook. Advanced users can tweak the calculation assumptions within the Emissions Inventory based on preference. Default assumptions for GHG emissions data found in Green Dash can be found in Synapse's caveats and considerations document. Download the Green Dash, emissions data inventory workbook, and caveats and considerations document here.
---
 The figure below shows GHG emissions data by sector and state in New England.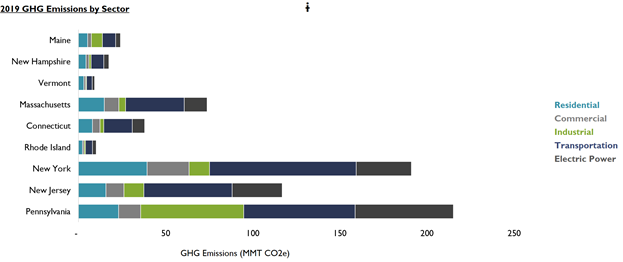 Green Dash also incorporates state-specific GHG emissions reduction goals based on consistently calculated baseline year data. The tool extrapolates data from the most recently available data year to the state's emissions reduction goals, allowing the user to track state progress toward goals. For example, the figure below shows historical GHG emissions and the resulting extrapolated reduction targets for Vermont (40% GHG emissions reductions by 2030 and 80% by 2050, compared to a 1990 baseline).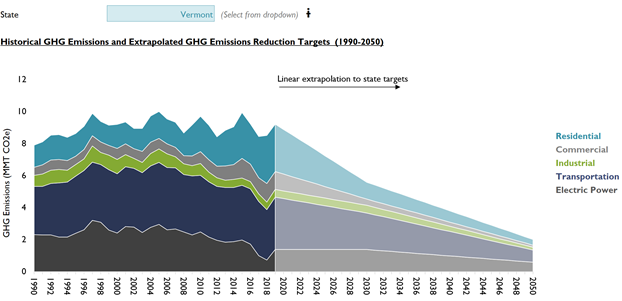 ---
Green Dash and the Emissions Inventory were developed by Synapse Energy Economics, Inc. on behalf of the Barr Foundation. Both workbooks use publicly available data sources which are cited in the workbooks for full transparency.
This tool is in Beta form. Any feedback or suggestions are welcome here.
---
  Download the Green Dash