Consumers Across the Country Will Save on Electricity Bills Under Clean Power Plan Compliance Pathway
Don't miss our upcoming webinar on this study. Registration details below.
Investing in high levels of clean energy and widespread energy efficiency programs can save money for a majority of households in each of the contiguous states, according to a Synapse modeling study released today.
The analysis, part of a series of briefs on the impacts of EPA's proposed Clean Power Plan on consumers, shows that households participating in state-sponsored efficiency programs can save an average of $35 on their monthly bills in 2030. Even non-participants will save money in 16 states.
Synapse modeled a path to compliance with the Clean Power Plan (called the "Clean Energy Future") and compared the difference in consumers' bills to a business-as-usual scenario in which no new investments are made. As described in the first brief in the series, the Clean Energy Future will save consumers $41 billion nationwide in 2030 compared to business as usual while reducing carbon dioxide emissions dramatically. The analysis released today examined state-specific bill and emissions impacts of the Clean Energy Future in each of the lower 48 states, and shows that every state modeled will comply with the Clean Power Plan in 2030.
Figure 1. Bill savings for energy efficiency participants in 2030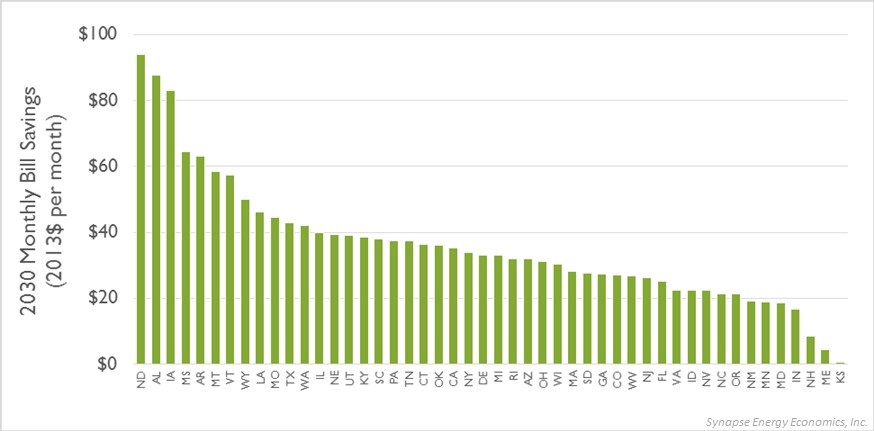 Join us next week for a webinar that will discuss the assumptions and methodology behind the analysis, and what the results tell us—and, importantly, both consumer and environmental advocates—about how to plan for compliance.
Date and time: Tuesday, July 28, 2015 2:00 pm
Register here: bit.ly/1DsixXk