Distribution
Synapse analyzes the distribution grid within the framework of distribution resource planning to assess the needed physical and operational changes to the local grid. The ongoing shift to a more decentralized grid powered by clean energy creates a slew of new challenges to tackle.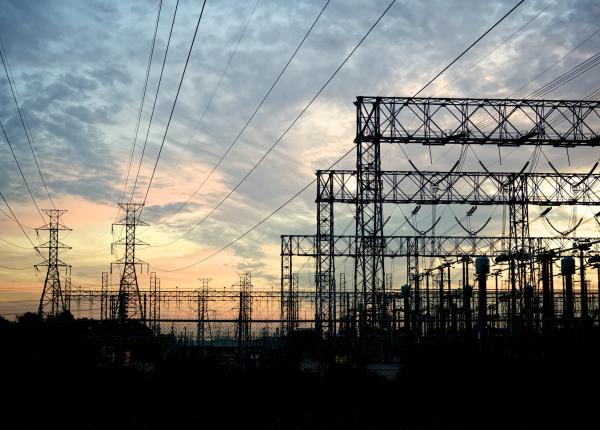 Overview
Within the context of distributed resource planning, Synapse evaluates:
Data Integration
Load and distributed energy resource (DER) forecasting
Interconnection
Hosting capacity analysis
Locational value of DERs
Microgrids
Much of this work relates to distribution system-specific grid modernization initiatives.
Data Integration: Data Management & Advanced Metering Infrastructure
Synapse has expertise in evaluating the cost-effectiveness of data management systems and communication networks on the distribution grid. Advanced metering infrastructure (AMI) is an integrated system of smart meters, communications networks, and data management systems that enables two-way communication between utilities and customers. As part of grid modernization and utility rate cases, Synapse has provided expert testimony and cost-benefit analyses regarding utilities' plans to build AMI infrastructure and to integrate AMI data with other information and management systems, including supervisory control and data acquisition (SCADA) systems, outage management systems (OMS), and geographic information systems (GIS). Synapse has also created GIS maps to visualize the potential for distributed solar PV system expansion in specific cities. 
Load and Distributed Energy Resource Forecasting 
Load forecasting is a projection of the actual amount of power that customers are expected to use at a future point in time. Load forecasts vary across time and location and electric utilities are continuously working to improve the temporal and spatial granularity of load forecasts. Moreover, as DER penetration on the grid increases, having a detailed understanding of the geospatial and temporal qualities of future DERs becomes essential for developing accurate load forecasts. Synapse has provided assessments of utility load forecasts while adjusting for DERs, energy efficiency, demand response, and building electrification. We have also conducted economic and technical potential studies for energy efficiency and DERs.
Interconnection of Distributed Energy Resources
As DER deployment grows, there is a greater need for utilities to interconnect DERs efficiently and transparently to the distribution system. Utilities must balance the need to process higher volumes of interconnection applications with the complex technical analyses that ensure the safety and reliability of the grid. The cost of interconnection increases as more complex technical studies are completed and if system upgrades are needed to connect the DERs. Synapse's work on interconnection includes:
Evaluation of grid interconnection requirements and provision of recommendations based on industry best practices to help streamline the DER interconnection process,
the identification of barriers to community distributed generation interconnection, and
the evaluation of the different strategies and costs for improving grid readiness for hosting additional DER capacity. 
Hosting Capacity Analysis (HCA)
Hosting capacity refers to the amount of DERs that can be accommodated on the distribution system on a given circuit without adversely impacting power quality or reliability and without requiring infrastructure upgrades. Hosting capacity is location dependent, feeder-specific, and time-varying.
There are three primary applications, or use cases, for an HCA:
To support market-driven DER deployment
To assist with streamlining DER interconnection
To enable more robust, long-term distribution system planning, providing visibility into how much DER the grid can host in future years.
Synapse's experience related to HCA includes:
Reviewing utility HCA to determine DER interconnection constraints that could prevent a state from meeting its DER policy growth targets
Evaluating grid and customer security risks of publishing sensitive grid data on HCA maps
Locational Value of Distributed Energy Resources
Appropriately valuing DERs on the distribution system provides opportunities for electric utilities to deliver greater value at lower cost, while maintaining grid reliability. DERs can provide significant benefits to the grid by controlling or reducing electricity consumption generating electricity and avoiding some types of electricity system costs. The potential value of a DER at a specific location on the grid is determined by the capability of the resource, and the potential costs it can avoid in that location, expressed over a defined period of time.  
Synapse has a wide range of experience with valuing DERs, including: 
Evaluation of the benefits of DERs, including avoided transmission and distribution investments, improved grid reliability, reduced environmental impacts, and reduced costs of energy service.
Assessment of locational value of DER and estimating the value of avoided costs for use in evaluating DER programs. 
Evaluation of DER valuation methodologies such as the value stack and net energy metering (NEM)-related rate designs.
Non-wires alternatives (NWAs) studies and evaluation of NWA procurement.
Microgrids: Regulatory Treatment, Resilience, and Physical Characteristics
Synapse helps its clients refine regulatory approaches to microgrids and to assess strategies and plans to use microgrids to improve resiliency. Microgrids integrate energy generation, end-uses, and often battery storage in a localized network that is able to function even while disconnected from the electricity grid (also known as "islanded." With growing emphasis on resilience, particularly for disadvantaged communities and critical facilities, microgrids are becoming a key component in the utility transformation.