Strategy & Analysis
We've had decades of designing effective strategies and analyses in the energy sector. Our experts don't just implement, they collaborate with you to help determine the best path forward for meeting energy and environmental goals.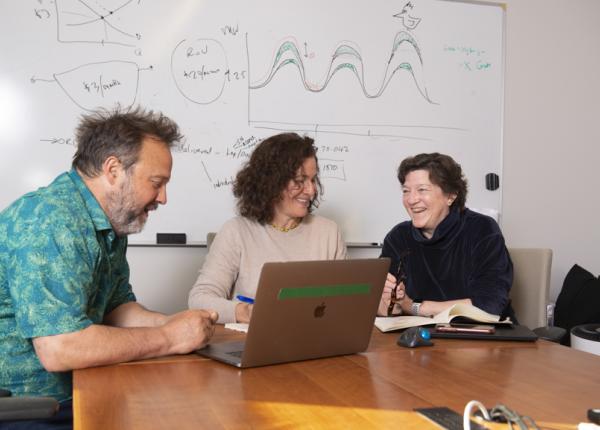 Overview
Synapse helps it clients refine goals and objectives. We identify useful policy levers and appropriate stakeholders, source the right data, and use that data for sound analyses. To keep our clients abreast of current challenges and emerging best practices, we provide:
Expert Reports to support better decisions on energy and environmental matters
Extension of Staff to add depth and breadth to our clients' teams
Best Practices Frameworks & Guides for improving the energy sector's response to current challenges
Economic Thinking to better navigate options for cleaner, more reliable, and more equitable energy
Financial Analysis to help shape effective energy and climate strategies
Expert Reports on Energy & Environmental Topics
Synapse expert reports provide fresh insight into a wide variety of energy sector topics—from high-level issues like energy efficiency, rate design best practices, long-term utility planning and cost-benefit analysis, to niche, city- or utility-specific issues like building performance standards and resource portfolios. Whether public or private, our reports provide clients with a deep understanding of the challenges they face and pathways forward.
Extension of Staff
Our clients face a long list of complex analytical topics, and often with very real constraints on available staff and time. Those constraints shouldn't stand in the way of effective energy and policy decision-making. Synapse staff offer technical and policy support to regulators, policymakers, and other clients across the continent and at all levels of government. We provide expert review of utility filings, technical support in IRP process design and implementation, support in crafting orders and regulatory rules, review and coordination of stakeholder comments, and assistance with RFP processes. We also participate in internal regulatory strategy discussions, provide staff training on key issues, assist with technical sessions, and--of course--perform a wide array of technical analyses.
Best Practices Frameworks & Guides
Synapse experts produce a wide variety of reports that offer guidance for implementing best practices in energy and climate planning and decision-making. Broadly, the goal of these publications is to consolidate and share knowledge to equip decision-makers, stakeholders, and community members with the tools they need to understand and effectively plan for a changing future. They also provide guidance for parties that review, critique, and submit comments to utility planning processes. These guides are the culmination of thorough data analysis, comprehensive literature reviews, collaboration with other industry thought leaders, our ability to strategize and think holistically, and decades of listening to and addressing our clients concerns and challenges.
Economic Thinking
Done right, economic analysis is so much more than plugging numbers into a spreadsheet. It takes a keen understanding of what incentives are at play, and where they are lacking. It requires knowledge of what drives decision-making and how different systems interact. And it means knowing how to minimize uncertainty, make reasonable assumptions, and mobilize the right data.
A large fraction of Synapse's work across North America falls into the category of energy planning and focuses on finding the most economic path for providing clean, reliable, affordable energy.
We regularly model the operations and future of electric utilities and wholesale market regions, with particularly extensive experience with ISO New England.
We evaluate and model the interactions between polices or policy-created markets (such as markets for renewable energy credits or carbon emission allowances) and electric utility and wholesale market behavior and planning. We also evaluate subsets of resources within those contexts—including classes of resources (such as offshore wind or solar) and specific facilities (such as existing coal or nuclear units).
We develop frameworks for the economic assessment (benefit-cost analyses and cost-effectiveness screening) of ratepayer-funded programs and resources. The technical details buried in the design and implementation of these assessments can make or break programs intended to support important policy goals, so it's important to get them right.
Financial Analysis
Financial analysis allows Synapse experts to determine the most prudent and cost-effective way to meet energy requirements at a local, state, and national scale. It also uncovers electric asset mismanagement and reveals instances where utilities or other decision-makers made poor choices that negatively impact ratepayers. This allows public utility commissions to hold utilities accountable and make informed choices that benefit their constituents.
Accurate financial analysis begins with quality data. In litigated dockets, we have deep experience navigating the discovery process to get the data we need and in providing analysis that is clear, accurate, and robust. We often use utilities' own data in these sorts of cases to evaluate past and present resource planning choices, though we are also fluent in the data available from the U.S. Energy Information Administration, National Renewable Energy Laboratory, U.S. Environmental Protection Agency, and other government and private agencies. Our spreadsheet analysis and advanced capacity expansion and distribution modeling have a proven record of holding up under the scrutiny of highly litigated resource planning cases and continue to be a cornerstone of our work. Our expertise in cost-benefit analysis has also informed the implementation of performance-based regulation, notably in Hawaii.