COVID-19 Lowers Electricity Use in New England
Beginning the week of March 15, many throughout New England have been living with emergency orders relating to COVID-19. Generally speaking, these orders limit gatherings, non-essential workforces, school openings, and on-site consumption of food and drink. In effect, these orders mean that many New Englanders are staying at home during most or all times of the day.
This change in habits has dramatically impacted electricity demand. The chart below (inspired by EIA's recent Today in Energy articles on New York, MISO, and Florida shows how daily weekday electricity demand in ISO New England has trended, relative to the recent past. In this chart, the red lines show demand for electricity in 2020, while the grey lines and shaded areas represent the average and range of demand over the past 5 years. For each day in 2020, we show the historical demand of days that were similar, weather-wise (e.g., had daily average temperatures [2015-2019] at Logan Airport within +/-2 degrees F of the 2020 day's daily average temperature). This chart also features a number of important dates in the COVID-19 timeline. For many New Englanders, stay-at-home orders/advisories came into place on or around the week of March 15.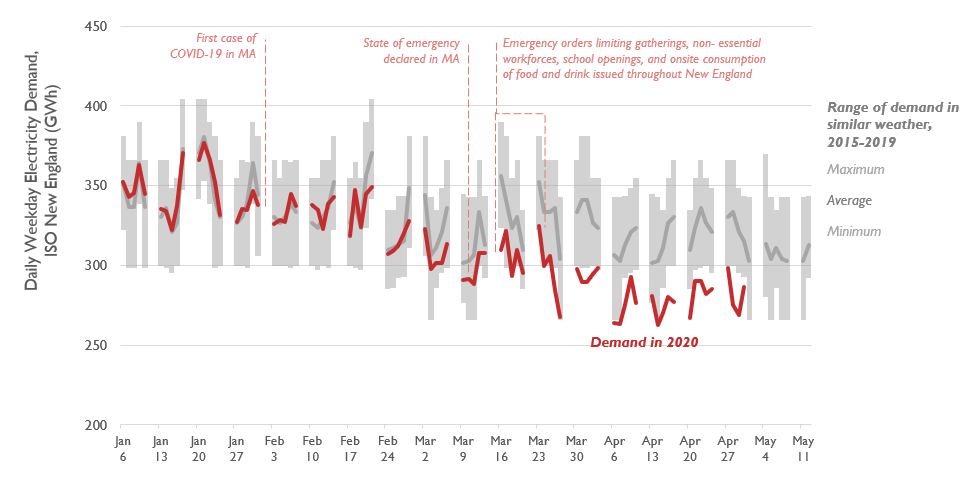 We observe:
From March 15 to April 30, demand for electricity in New England has been near or below historical minimum levels on nearly every weekday.
From March 15 to April 30, daily weekday demand for electricity in New England has been about 12 percent lower than normal.
Note that these observations are different than those recently published by ISO New England, which focus on the deviations between observed electricity demand and predicted (rather than historical) electricity demand.